Nazareth Village
Nazareth Village, Nazareth
Nazareth is the village in northern Israel where Jesus lived until commencing His ministry at about 30 years of age. Nazareth Village is an interactive open air museum that transformed a hillside in central Nazareth into an authentic first century Israeli village.
A visit to the Nazareth Village is an engaging time warp back to first century Israel. Created and operated by a non-profit Christian foundation, the village's Biblical accuracy and attention to details is impressive. Nazareth Village also is unassuming, reasonably-priced, and perhaps the only site in Israel that hands every departing visitor something - a miniature but functioning souvenir oil lamp - for free. The only Christian sites in Israel that outrank Nazareth Village as "must visit" destinations are Jesus' Tomb and Golgotha.
Nazareth Village has shepherds tending sheep (above) and a weaver who spins the wool into yarn (below).
It also has authentic first century wine and olive oil presses, and a threshing floor where women weave straws into baskets (below).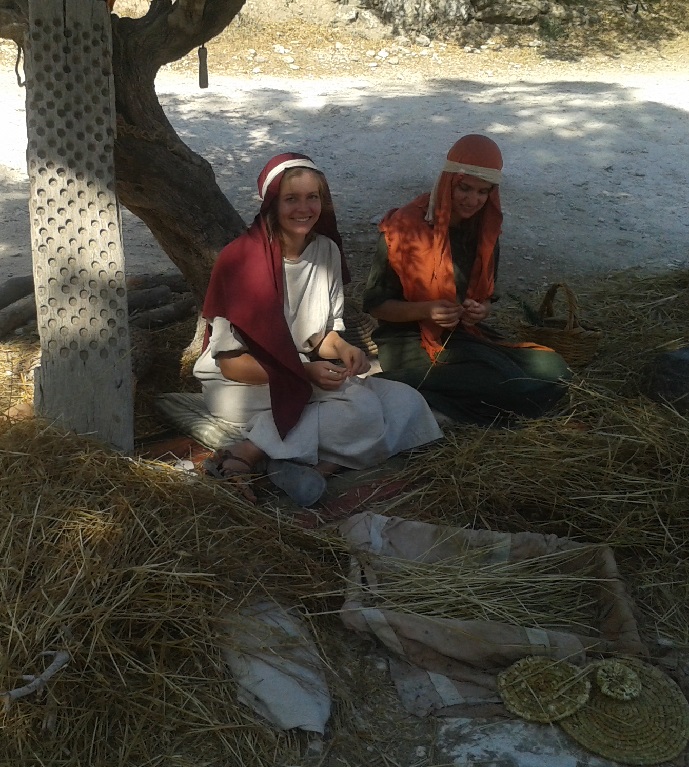 Nazareth Village also has a first century synagogue whose rabbi is a Bible scholar, carefully reconstructed homes and terraced fields from the same era, and the most authentic Roman cross on display in Israel, if not in the world.
As an example of its attention to historical authenticity and accuracy, Nazareth Village correctly explains that the Bible identifies Joseph's occupation as "tektonos," a Greek word that means "builder."* Two thousand years ago, builders in Israel built with rocks and stones, not wood, so they were not carpenters. However, there was some carpentry involved to create and hang doors, etc., as demonstrated at the village (below).
All of the costumed personnel at Nazareth Village are courteous and knowledgeable volunteers, and there is no pressure to spend or donate money. If you visit Nazareth Village after the myriad money-grabbing and/or fake sites in Israel (e.g., Via Dolorosa, Church of the Ascension, Holy Sepulcher Church, Bible Lands Museum, Yardenit, etc.), the visit will be a breath of fresh air that leaves you educated and exhilarated.
Travel Tip
Because so many people gush about how great Nazareth Village is for children, some consider it primarily a family destination. While it is great for families, be advised that pastors who visit it leave with sermon-worthy new insights.
* Then He went out from there and came to His own country, and His disciples followed Him. And when the Sabbath had come, He began to teach in the synagogue. And many hearing Him were astonished, saying, "Where did this Man get these things? And what wisdom is this which is given to Him, that such mighty works are performed by His hands! Is this not the tektonos, the Son of Mary, and brother of James, Joses, Judas, and Simon? And are not His sisters here with us?" So they were offended at Him. But Jesus said to them, "A prophet is not without honor except in his own country, among his own relatives, and in his own house." Now He could do no mighty work there, except that He laid His hands on a few sick people and healed them. And He marveled because of their unbelief. Then He went about the villages in a circuit, teaching. (Mark 6:1-6)