Yardenit
Yardenit, Israel
The Yardenit Baptismal Site ("Yardenit") is located on a pretty stretch of the Jordan River near the southern tip of Lake of Gennesaret. Above is the entrance to Yardenit, which in Hebrew means "Little Jordan." Below is Yardenit during a lull in between tour bus arrivals.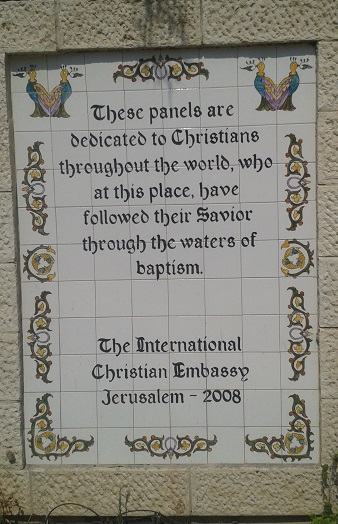 Every year, over half million Christians from around the world flock to Yardenit to visit and/or be baptized "at this place" where Jesus was baptized 2,000 years ago, as the site proudly claims (photo).
Is Yardenit really the place where Jesus was baptized?
The Bible says, "John came baptizing in the wilderness and preaching a baptism of repentance for the remission of sins. Then all the land of Judea, and those from Jerusalem, went out to him and were all baptized by him in the Jordan River, confessing their sins" (Mark 1:4-5). So John was baptizing in the Jordan River in the region of "Judea" in the vicinity of "Jerusalem," which is about 100 kilometers south of Yardenit. The Bible also says, "Jesus came from Galilee to John at the Jordan to be baptized by him" (Matthew 3:13), so the region of Galilee, in which Yardenit is located, is where Jesus departed from to be baptized by John in the region of Judea.
Then why is Yardenit promoted as the place of Jesus' baptism?
Until the Six-Day War of 1967, Qasr al-Yahud, located a few miles north of where the Jordan River empties into the Dead Sea, was considered the location of Jesus' baptism. After the Six-Day War, the southern stretch of Jordan River became the mined, militarized border between Israel and the country of Jordan, making Qasr al-Yahud inaccessible. To provide an alternative site that can be visited, Israeli Ministry of Tourism funded Kibbutz Kinneret, a Jewish farming cooperative on a picturesque part of the Jordan Riven, to build Yardenit in 1981. Kibbutz Kinneret continues to own, expand and operate Yardenit.
Why does a Jewish kibbutz operate a site that commemorates Jesus' baptism?
To reach the Jordan River, the half million annual visitors to Yardenit must walk through its massive gift shop (below). Yardenit also has a large indoor restaurant, an outdoor snack bar, for-pay toilets and showers, and to get baptized at Yardenit, you must pay $25 to buy or $10 to rent Yardenit's flimsy white gown; no non-Yardenit flimsy white gowns allowed!
Need a pastor to baptize you?
No problem, as one can be called to come for a "donation" of 100 US dollars. Those with deeper pockets can help Yardenit cement its claim of being Jesus' baptismal site by paying $8,000 to "donate" a translation of Mark 1:9-11 - In those days Jesus came from Nazareth of Galilee and was baptized by John in the Jordan. And when he came up out of water, immediately he saw the heavens opened and the Spirit descending upon him like a dove, and a voice came from heaven; "Thou art my beloved Son, with thee I am well pleased" (above) - to a wall that Yardenit is building around itself (below).
What about Qasr al-Yahud?
It re-opened in 2011 but the Jordan River there is muddy brown, the infrastructure isn't as developed, and Qasr al-Yahud doesn't have the marketing muscle of Yardenit, which shakes money out of Christians with shameless pressure tactics.
Visitor Email:
"I so appreciate your honest assessment and advice on the Holy Land. We've been to Yardenlit twice now and your website was the only one that answered our questions. I suspected that it was owned by Israelis who were not Christian and you confirmed it. When we were at Yardenlit, it felt slimy. I mean charging to use the restroom. Really! All those Christians getting rebaptized in an area where Jesus wasn't baptized. So many descriptions of Yardenit imply that it was the site. I was like "Hey, folks, you were probably all already baptized. Don't get separated from your shekels with this nonsense. So much of the Holy Land is a con, I fear!" Donna